Levenhuk Karma PLUS 10x25 Binoculars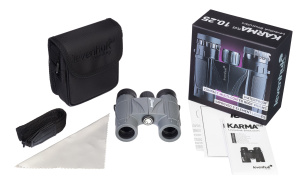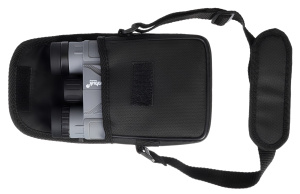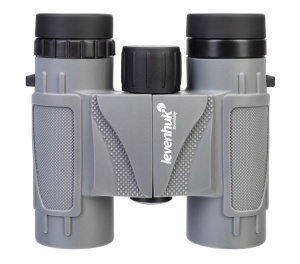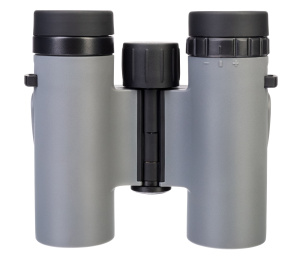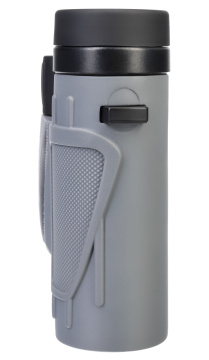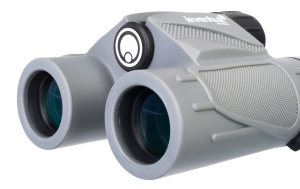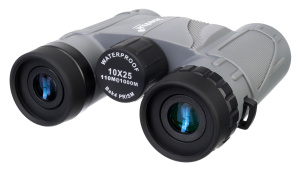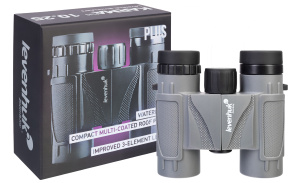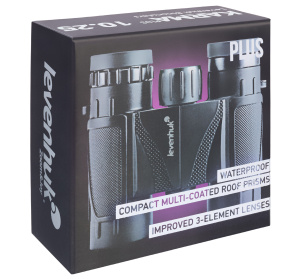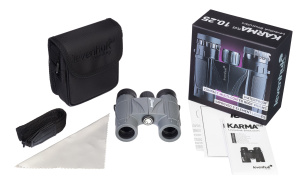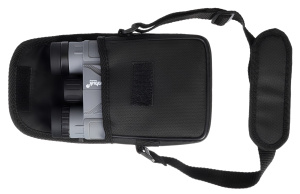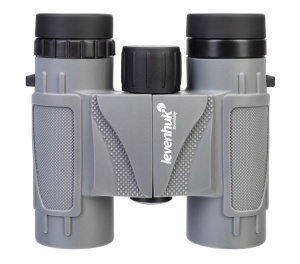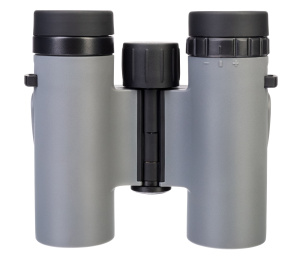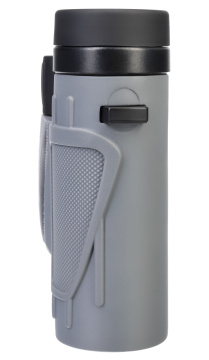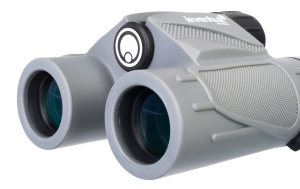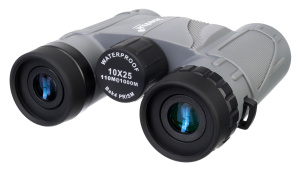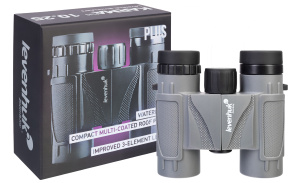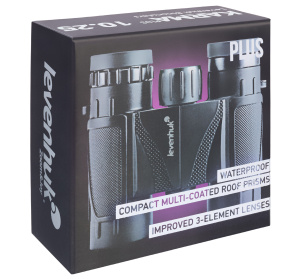 Compact, wide-angle, all-weather. Magnification: 10x. Objective lens diameter: 25mm
Levenhuk Karma PLUS 10x25 model is a high-quality, convenient, and reliable pair of binoculars, and so easy to take with you wherever you go! Their compact size lets you carry them in a pocket or small purse. Superior multi-coated optics create bright, clear images; the wide field of view is great for panoramic observations. Levenhuk Karma PLUS 10x25 model is designed especially for people who prefer living an active lifestyle – its reliable waterproof shell securely protects the instrument so that you can use these binoculars regardless of weather conditions.
The roof prism design of this model allows the binoculars to be compact and provide high performance at the same time. Three-element eyepieces deliver superb image quality – unprecedented clarity, sharpness and vividness. The lenses are coated with multiple layers of anti reflective coating. The binoculars create vivid images with lifelike colors. The body is filled with nitrogen – the optics won't fog up even in high humidity, and the picture will remain clear in any weather conditions.
The binoculars can be adjusted according to the individual characteristics of each user: Their interpupillary distance is adjustable, and there's also a diopter adjustment ring. The ergonomic binoculars' body is covered with a rubber coating of light gray color – they're comfortable to hold, and won't accidentally slip out of your wet hands.
The kit includes:
Levenhuk Karma PLUS 10x25 Binoculars
Strap
Cleaning wipe
Pouch
User guide and lifetime warranty
---
Serjio (2017.09.02)
Weight?
Customer service:
Levenhuk Karma PLUS 10x25 binoculars weigh 450g.
---
Sam Seans (2015.07.20)
Ok, but I've got a problem here - I can't remove the cap. How is it attached? I tried to tug it carefully, but didn't manage to remove it. You see, they are nice binoculars, I don't want to damage them.
Customer service:
You need to unscrew the cap with Levenhuk logo located between binoculars' eyepieces. The cap is threaded and is made of plastic.
---
Sam Seans (2015.07.19)
The Specifications show that binoculars are adaptable to a tripod, but I can't seem to find mounting socket for a tripod. Could you please explain, how exactly these binoculars are installed on a tripod. Do I need an adapter? Which one?
Customer service:
Unfortunately, suitable tripod adapter is currently unavailable in our store. The socket is located between the eyepieces of the Levenhuk Karma PLUS 10x25 model. You need to remove this small black cap there.
---
Submit your question
Levenhuk Karma PLUS 10x25 Binoculars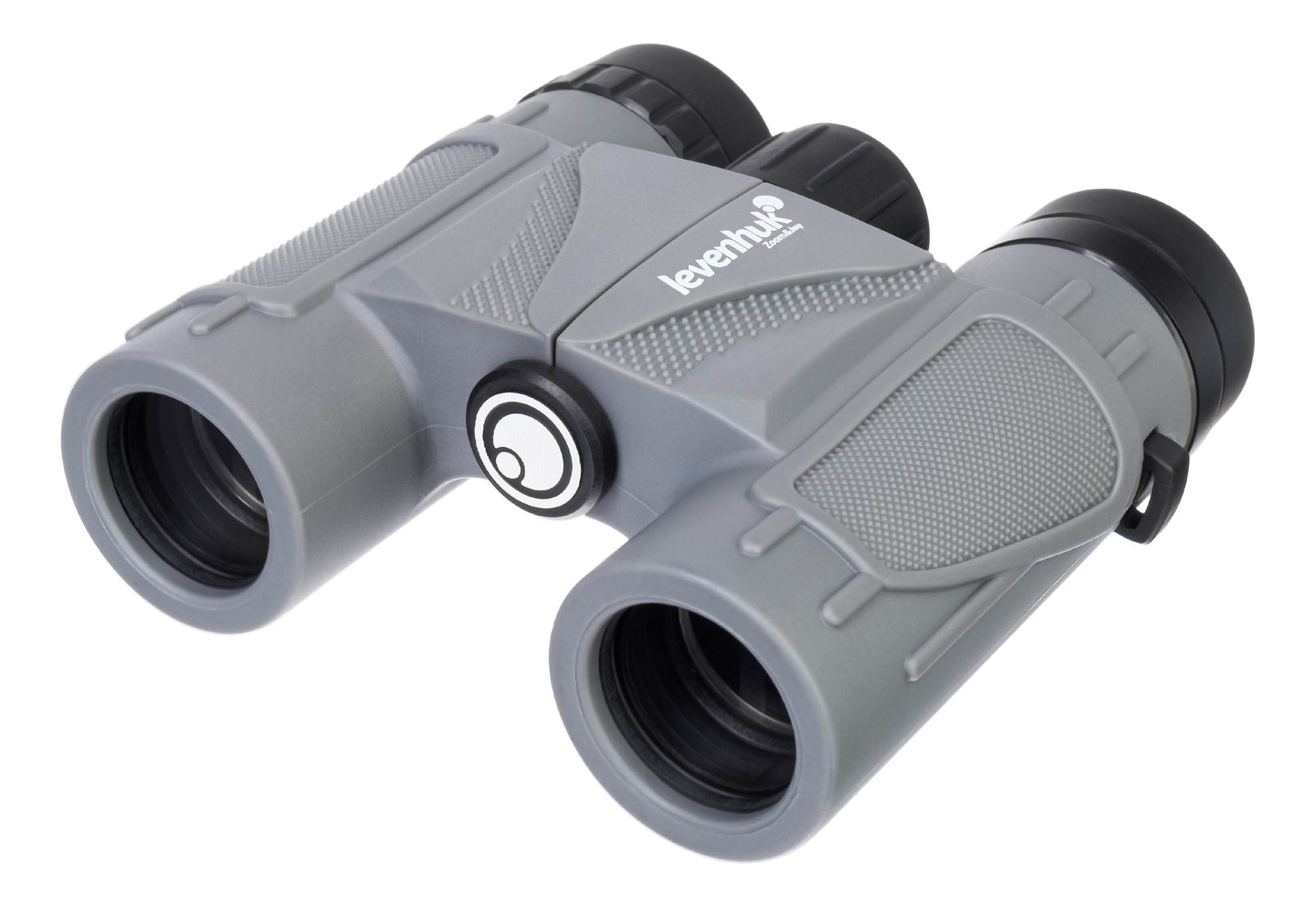 Levenhuk Karma PLUS 10x25 model is a high-quality, convenient, and reliable pair of binoculars, and so easy to take with you wherever you go! Their compact size lets you carry them in a pocket or small purse. Superior multi-coated optics create bright, clear images; the wide field of view is great for panoramic observations. Levenhuk Karma PLUS 10x25 model is designed especially for people who prefer living an active lifestyle – its reliable waterproof shell securely protects the instrument so that you can use these binoculars regardless of weather conditions. The roof prism design of this model allows the binoculars to be compact and provide high performance at the same time. Three-element eyepieces deliver superb image quality – unprecedented clarity, sharpness and vividness. The lenses are coated with multiple layers of anti reflective coating. The binoculars create vivid images with lifelike colors. The body is filled with nitrogen – the optics won't fog up even in high humidity, and the picture will remain clear in any weather conditions. The binoculars can be adjusted according to the individual characteristics of each user: Their interpupillary distance is adjustable, and there's also a diopter adjustment ring. The ergonomic binoculars' body is covered with a rubber coating of light gray color – they're comfortable to hold, and won't accidentally slip out of your wet hands. The kit includes: Levenhuk Karma PLUS 10x25 Binoculars Strap Cleaning wipe Pouch User guide and lifetime warranty