Ermenrich Ping SM70 Stud Detector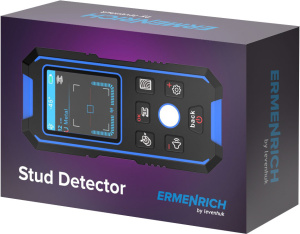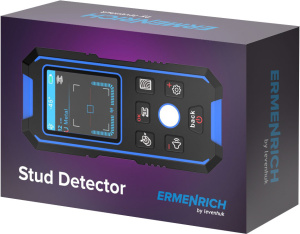 For detecting metals, live wiring, metal, and wooden studs in walls
Ermenrich Ping SM70 Stud Detector is a device for detecting metal objects (pipes, rebar, self-tapping screws), live wiring, wooden structures hidden in walls, floors, and ceilings. It is required to ensure the safety of construction, repair, finishing, and installation works. For example, when drilling, you won't accidentally hit live wires or damage the drill bit against a metal part. The Ermenrich Ping SM70 Stud Detector is a useful tool not only for professional purposes but also for home use.
It is a compact device with push-button control and built-in LCD display. The screen displays the operating mode icons as well as a signal bar that indicates how close a stud or wire is to the detector. The device beeps when it detects a stud or wire. You can turn off the audible notifications, if necessary. The sensitivity adjustment and calibration functions are provided to fine-tune the device.
The stud detector is powered by a rechargeable battery.
Key features:
Detection of ferrous and non-ferrous metals, metal and wooden studs, live wiring
2.4" color screen, push-button control
Sensitivity adjustment, calibration, audible alerts, signal bar on the screen
High-strength ABS plastic body, powered by a rechargeable battery
The kit includes:
Stud detector
Type-C USB cable
Pouch
User manual and warranty card
Ermenrich Ping SM70 Stud Detector
Ermenrich Ping SM70 Stud Detector is a device for detecting metal objects (pipes, rebar, self-tapping screws), live wiring, wooden structures hidden in walls, floors, and ceilings. It is required to ensure the safety of construction, repair, finishing, and installation works. For example, when drilling, you won't accidentally hit live wires or damage the drill bit against a metal part. The Ermenrich Ping SM70 Stud Detector is a useful tool not only for professional purposes but also for home use. It is a compact device with push-button control and built-in LCD display. The screen displays the operating mode icons as well as a signal bar that indicates how close a stud or wire is to the detector. The device beeps when it detects a stud or wire. You can turn off the audible notifications, if necessary. The sensitivity adjustment and calibration functions are provided to fine-tune the device. The stud detector is powered by a rechargeable battery. Key features: Detection of ferrous and non-ferrous metals, metal and wooden studs, live wiring 2.4" color screen, push-button control Sensitivity adjustment, calibration, audible alerts, signal bar on the screen High-strength ABS plastic body, powered by a rechargeable battery The kit includes: Stud detector Type-C USB cable Pouch User manual and warranty card