Ermenrich Ping SM90 Stud Detector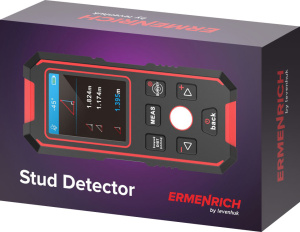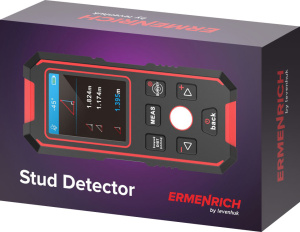 For detecting metals, live wiring, metal and wooden studs in walls. With a laser tape measure and a digital level
The Ermenrich Ping SM90 is a 3-in-1 device that combines the functionality of a stud detector, laser tape measure, and digital level. This makes it a multifunctional tool for apartment renovation, site construction, equipment installation, and wall finishing. Simple operation makes it easy to use the device at home. A wide range of functions will solve the tasks of professional craftsmen and builders.
In laser tape measure mode, the device can measure the linear dimensions (length, width, height) within a range of 20cm to 40m (8in to 130ft) and with an accuracy of ±1.5mm. There is also a calculation mode, in which the device measures the area and volume as well as performs other calculations using formulas. The device can take single measurements or operate in scan mode. The results will be saved in the built-in memory of the device. As a digital level, the Ermenrich Ping SM90 measures angles from −90° to +90°. In stud detector mode, it locates live wiring hidden in walls, ferrous and non-ferrous metal objects, and wooden studs.
The device has a compact design and comes in a pouch and, therefore, it is convenient to take with you on trips. The power source is a rechargeable battery.
Key features:
Three functions in one device: stud detector, laser tape measure, digital level
Single and continuous measurements, length measurements, volume and area calculations, calculations based on formulas
Digital level for angle measurement in the range from −90° to +90°
Detector for locating metal objects, wooden studs, and live wiring hidden in walls
Portable design, shockproof body, powered by a rechargeable battery
The kit includes:
Stud detector
Type-C USB cable
Pouch
User manual and warranty card
Ermenrich Ping SM90 Stud Detector
The Ermenrich Ping SM90 is a 3-in-1 device that combines the functionality of a stud detector, laser tape measure, and digital level. This makes it a multifunctional tool for apartment renovation, site construction, equipment installation, and wall finishing. Simple operation makes it easy to use the device at home. A wide range of functions will solve the tasks of professional craftsmen and builders. In laser tape measure mode, the device can measure the linear dimensions (length, width, height) within a range of 20cm to 40m (8in to 130ft) and with an accuracy of ±1.5mm. There is also a calculation mode, in which the device measures the area and volume as well as performs other calculations using formulas. The device can take single measurements or operate in scan mode. The results will be saved in the built-in memory of the device. As a digital level, the Ermenrich Ping SM90 measures angles from −90° to +90°. In stud detector mode, it locates live wiring hidden in walls, ferrous and non-ferrous metal objects, and wooden studs. The device has a compact design and comes in a pouch and, therefore, it is convenient to take with you on trips. The power source is a rechargeable battery. Key features: Three functions in one device: stud detector, laser tape measure, digital level Single and continuous measurements, length measurements, volume and area calculations, calculations based on formulas Digital level for angle measurement in the range from −90° to +90° Detector for locating metal objects, wooden studs, and live wiring hidden in walls Portable design, shockproof body, powered by a rechargeable battery The kit includes: Stud detector Type-C USB cable Pouch User manual and warranty card