Levenhuk D400T Digital Trinocular Microscope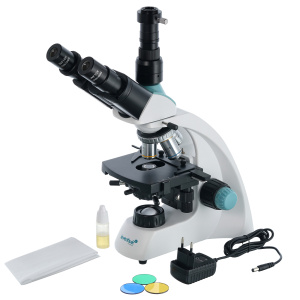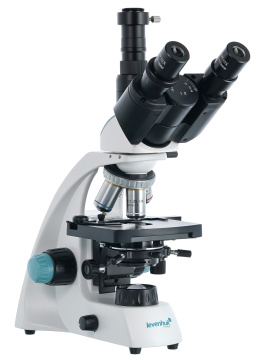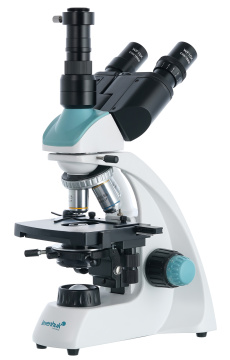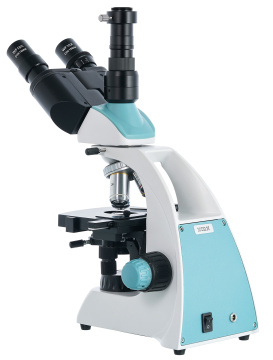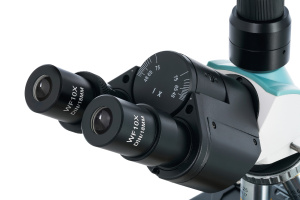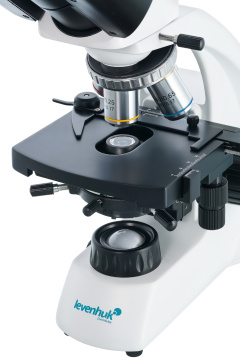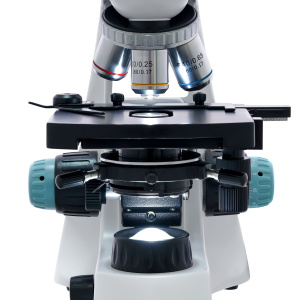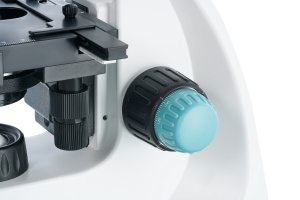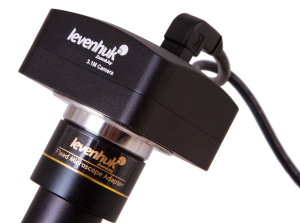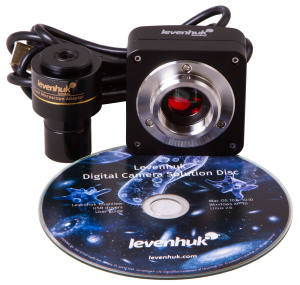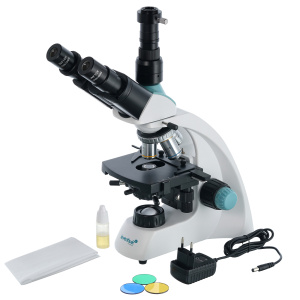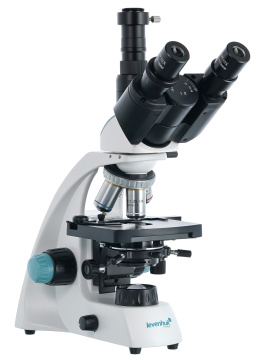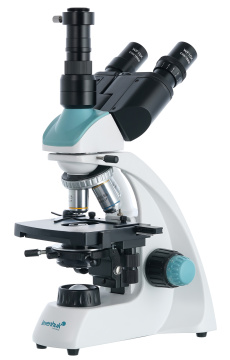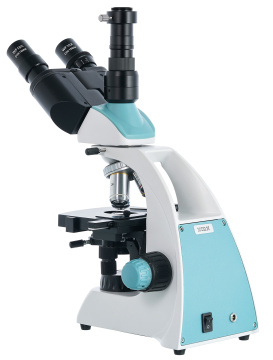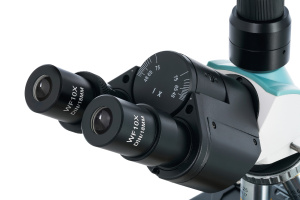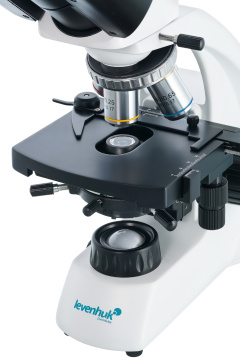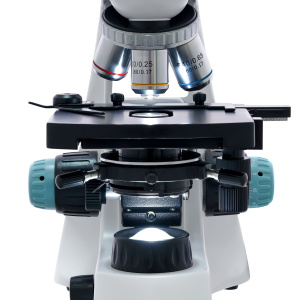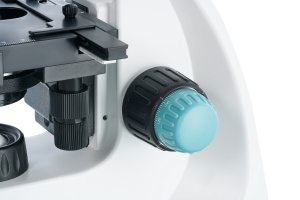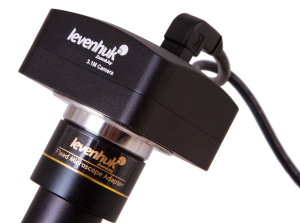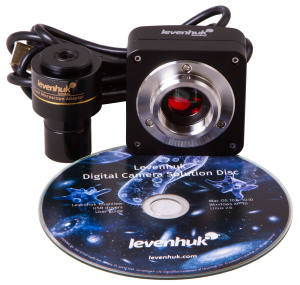 Magnification: 40–1000x. Trinocular head, achromatic objectives, LED illumination with a collector lens
The Levenhuk D400T is a digital biological microscope with a 3.1MP camera included in the kit. This instrument can be used for visual observations as well as photographing samples, video shooting, and transmitting the image to the screen. The image resolution reaches 2048х1536 pixels. This microscope is a great choice for a laboratory, veterinary office, or educational institution.
It features a trinocular head. The visual module is inclined, which prevents tensing your neck muscles up during long hours of observations. The eyepiece tube for a digital camera (included) is vertical. The kit includes two wide-field eyepieces with 10x magnification. The optical system includes two wide-field eyepieces with 4x, 10x, 40x, and 100x magnification. The front lenses of the 40x and 100x objectives are equipped with protective spring-loaded frames. Moreover, a 100x objective lens can be used for oil immersion.
There is a mechanical scale for fixing microscope slides. A bright LED light and collector lens are located at the bottom. The illumination brightness is adjustable. The light system also includes an Abbe condenser with an iris diaphragm that allows for adjusting luminous intensity. You can utilize light filters with this microscope.
The digital camera (included) comes with the software for it. It allows you to edit previously saved images: zoom them, crop them, change the contrast and brightness, and so forth.
Note: Remember that the power supply in the US and Canada is 110V, and it is 220–240V in most European countries. Please refer to the specifications table for the correct voltage and never attempt to plug a 110V device into a 220V outlet and vice versa without using a converter.
Some things that you can see under a microscope:
You can find these and many more interesting microscope slides to observe in the Levenhuk Prepared Slides Sets.
The Levenhuk D400T Digital Trinocular Microscope is compatible with Levenhuk digital cameras (additional cameras are purchased separately). Levenhuk cameras are installed in an eyepiece tube instead of an eyepiece.
Main Features:
Wide-field achromatic optics
Magnification: 40–1000x
Lower LED lighting for observations in transmitted light
Collector and brightness adjustment, power supply by batteries or AC power supply
3.1MP digital camera is included
The kit includes:
Microscope
Achromatic objective lenses: 4x, 10x, 40x, and 100x (oil immersion)
WF10x/18mm eyepieces (2 pcs)
Abbe condenser N.A. 1.25 with an iris diaphragm and filter holder
Charging power cord
C-mount
Vial of immersion oil
Filters: blue, green, yellow
Dust cover
Digital camera
Camera adapter
USB cable for the camera
Software CD
User manual and lifetime warranty
Levenhuk D400T Digital Trinocular Microscope
The Levenhuk D400T is a digital biological microscope with a 3.1MP camera included in the kit. This instrument can be used for visual observations as well as photographing samples, video shooting, and transmitting the image to the screen. The image resolution reaches 2048х1536 pixels. This microscope is a great choice for a laboratory, veterinary office, or educational institution. It features a trinocular head. The visual module is inclined, which prevents tensing your neck muscles up during long hours of observations. The eyepiece tube for a digital camera (included) is vertical. The kit includes two wide-field eyepieces with 10x magnification. The optical system includes two wide-field eyepieces with 4x, 10x, 40x, and 100x magnification. The front lenses of the 40x and 100x objectives are equipped with protective spring-loaded frames. Moreover, a 100x objective lens can be used for oil immersion. There is a mechanical scale for fixing microscope slides. A bright LED light and collector lens are located at the bottom. The illumination brightness is adjustable. The light system also includes an Abbe condenser with an iris diaphragm that allows for adjusting luminous intensity. You can utilize light filters with this microscope. The digital camera (included) comes with the software for it. It allows you to edit previously saved images: zoom them, crop them, change the contrast and brightness, and so forth. Note: Remember that the power supply in the US and Canada is 110V, and it is 220–240V in most European countries. Please refer to the specifications table for the correct voltage and never attempt to plug a 110V device into a 220V outlet and vice versa without using a converter. Some things that you can see under a microscope: You can find these and many more interesting microscope slides to observe in the Levenhuk Prepared Slides Sets. The Levenhuk D400T Digital Trinocular Microscope is compatible with Levenhuk digital cameras (additional cameras are purchased separately). Levenhuk cameras are installed in an eyepiece tube instead of an eyepiece. Main Features: Wide-field achromatic optics Magnification: 40–1000x Lower LED lighting for observations in transmitted light Collector and brightness adjustment, power supply by batteries or AC power supply 3.1MP digital camera is included The kit includes: Microscope Achromatic objective lenses: 4x, 10x, 40x, and 100x (oil immersion) WF10x/18mm eyepieces (2 pcs) Abbe condenser N.A. 1.25 with an iris diaphragm and filter holder Charging power cord C-mount Vial of immersion oil Filters: blue, green, yellow Dust cover Digital camera Camera adapter USB cable for the camera Software CD User manual and lifetime warranty