Levenhuk Skyline PLUS 105 MAK Telescope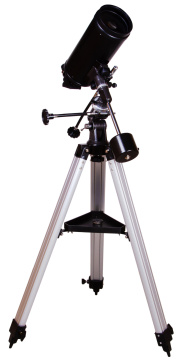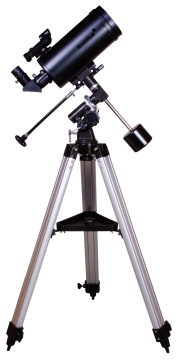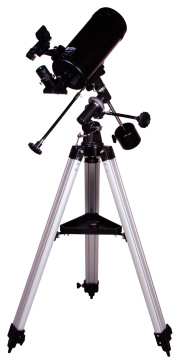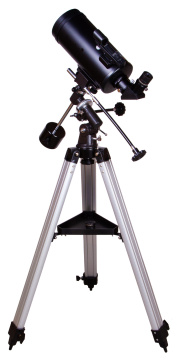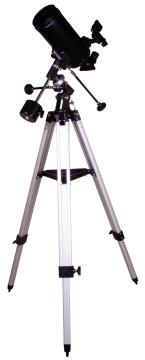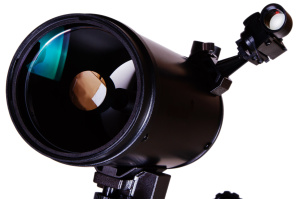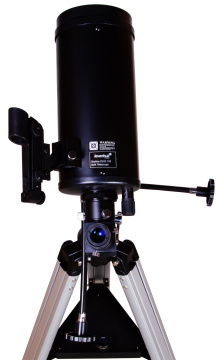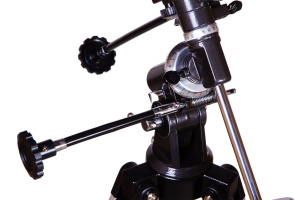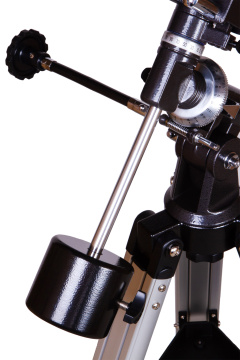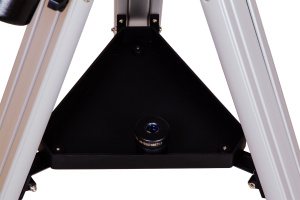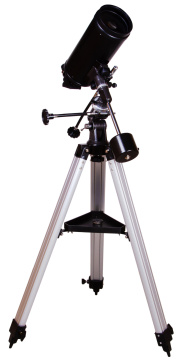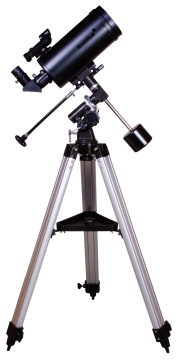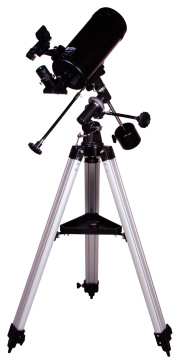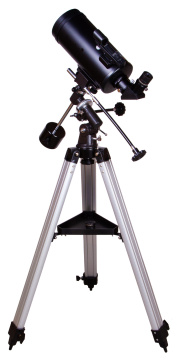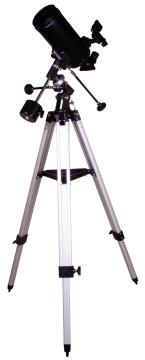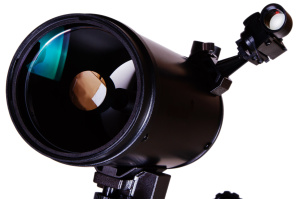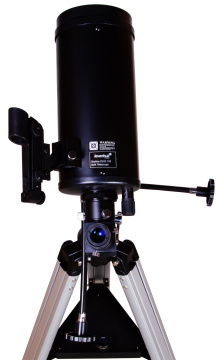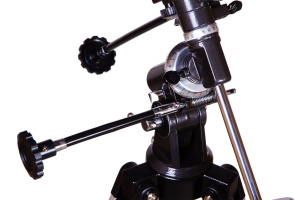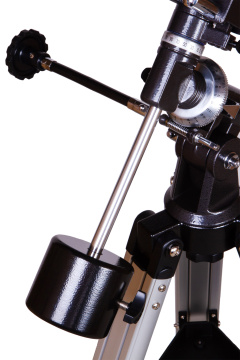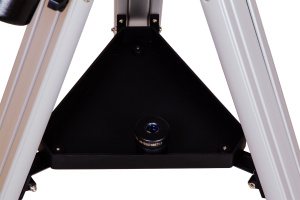 Maksutov-Cassegrain. Aperture: 102mm. Focal length: 1300mm
Levenhuk Skyline PLUS 105 MAK is a small telescope for beginner users who are looking for a multi-purpose optical instrument for astronomical and terrestrial observations. This telescope works well for studying the Moon, the planets of the solar system, and other popular deep-sky objects. You can easily spot the rings of Saturn, storms on Jupiter, the seasons on Mars, and the atmospheric phenomena on Venus. In addition, double stars, diffuse and planetary nebulae, galaxies, and many other objects in the Messier and NGC catalogs are well-discerned.
The optics in the telescope use a catadioptric scheme, which means that its excellent optical capabilities are inserted into a small compact body. The telescope can be easily placed on a balcony; it is easy to take it with you to the countryside or take it outside the house for conducting astronomy observations. The optics, made of fully multi-coated optics, deliver a sharp and detailed image.
It requires some experience to operate the telescope, yet an equatorial mount provides significantly more possibilities than an alt-azimuthal mount. It allows for smooth and precise tracking of objects in the sky with two slow-motion control knobs. Long observations require very little effort, so you can study more astronomical objects and events.
The telescope is mounted on a stable aluminum tripod. Tripod legs are height adjustable. An accessory tray can be used to hold the accessories. There are two eyepieces with a different focal length with average magnification and a diagonal mirror that is used for landscape observations.
Features:
Catadioptric telescope for beginner astronomers
Fully multi-coated optics
Two eyepieces and a diagonal mirror are included in the kit
Sturdy aluminum mount with an accessory tray
An equatorial mount provides for ultimate convenient control
The kit includes:
Telescope optical tube
Equatorial mount
Aluminum tripod with an accessory tray
Red Dot finderscope
10mm eyepiece, 130x
20mm eyepiece, 65x
90° diagonal mirror
Slow-motion control knobs
Counterweight
User manual and lifetime warranty
---
Alex (2020.11.23)
Hi, I want to buy a telescope for my 6 years old son. I stopped for skyline plus 105 mak and skyline 120x1000 eq. Which better will be for him?? Thanks
Customer service:
Dear Alex, thank you for interest in Levenhuk products. For a 6 year old, we'd recommend to consider buying a refactor. Refractors, as opposed to reflectors, are user friendly—very,virtually no maintenance needed, and the eyepiece is located at the bottom of the tube, which makes it accessible to children. For example: Levenhuk Skyline Travel 80 Telescope, you can find it here online:
https://www.levenhuk.com/catalogue/telescopes/levenhuk-skyline-travel-80-telescope/
This model will be a perfect beginning telescope. Moreover, it comes with a telescope case. So it will be easy to move and take everywhere. Do you have any comments or questions? Looking forward to your reply.
---
Submit your question
Levenhuk Skyline PLUS 105 MAK Telescope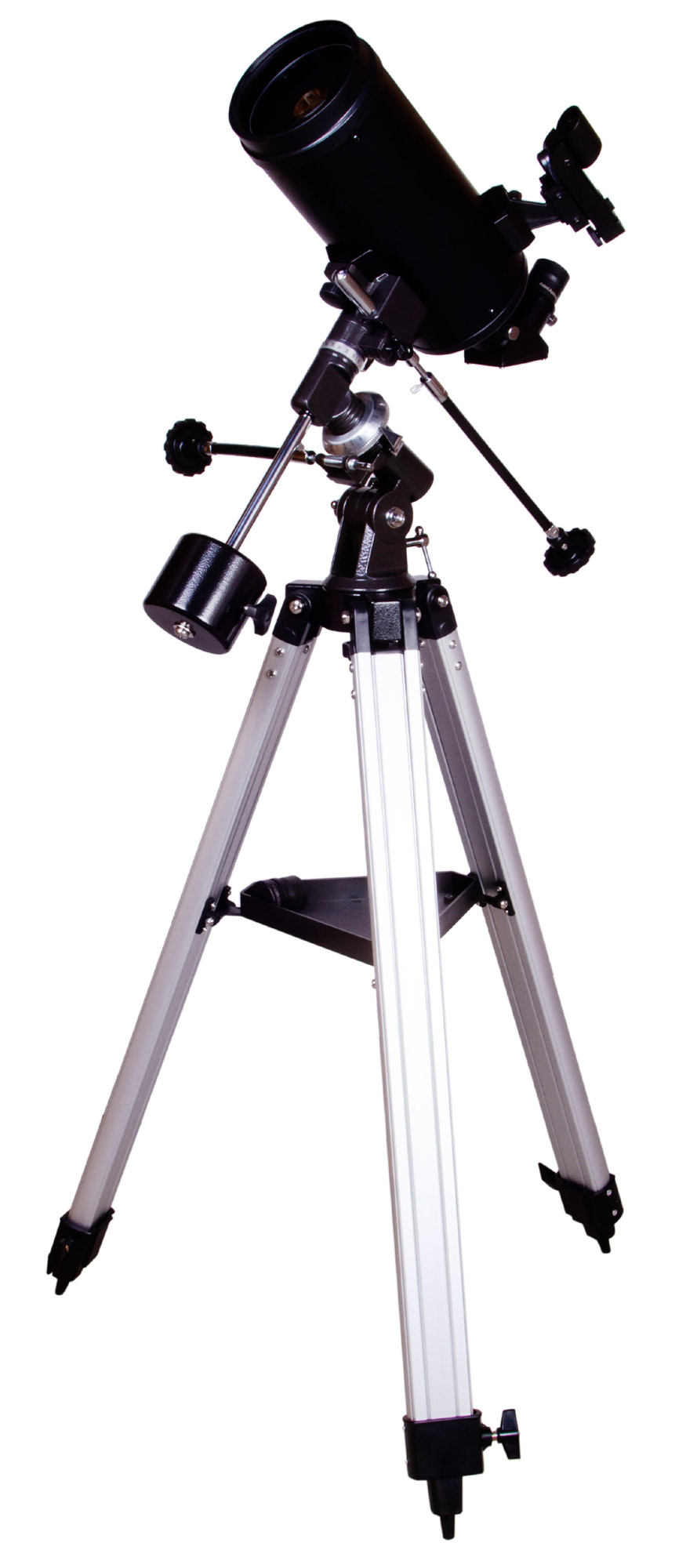 Levenhuk Skyline PLUS 105 MAK is a small telescope for beginner users who are looking for a multi-purpose optical instrument for astronomical and terrestrial observations. This telescope works well for studying the Moon, the planets of the solar system, and other popular deep-sky objects. You can easily spot the rings of Saturn, storms on Jupiter, the seasons on Mars, and the atmospheric phenomena on Venus. In addition, double stars, diffuse and planetary nebulae, galaxies, and many other objects in the Messier and NGC catalogs are well-discerned. The optics in the telescope use a catadioptric scheme, which means that its excellent optical capabilities are inserted into a small compact body. The telescope can be easily placed on a balcony; it is easy to take it with you to the countryside or take it outside the house for conducting astronomy observations. The optics, made of fully multi-coated optics, deliver a sharp and detailed image. It requires some experience to operate the telescope, yet an equatorial mount provides significantly more possibilities than an alt-azimuthal mount. It allows for smooth and precise tracking of objects in the sky with two slow-motion control knobs. Long observations require very little effort, so you can study more astronomical objects and events. The telescope is mounted on a stable aluminum tripod. Tripod legs are height adjustable. An accessory tray can be used to hold the accessories. There are two eyepieces with a different focal length with average magnification and a diagonal mirror that is used for landscape observations. Features: Catadioptric telescope for beginner astronomers Fully multi-coated optics Two eyepieces and a diagonal mirror are included in the kit Sturdy aluminum mount with an accessory tray An equatorial mount provides for ultimate convenient control The kit includes: Telescope optical tube Equatorial mount Aluminum tripod with an accessory tray Red Dot finderscope 10mm eyepiece, 130x 20mm eyepiece, 65x 90° diagonal mirror Slow-motion control knobs Counterweight User manual and lifetime warranty